How to Create Demand In Any Market
No matter what the market environment is, homes sell.
They don't always sell fast and they don't always sell for top dollar...but they do sell.
For instance, if you look at the ebb and flow of real estate sales, you'll see that even in down markets, a significant number of homes sell.

A quick view of sales from 2005 and 2006 show that a truckload of homes sold in those two years.
These huge numbers are an aberration as in those years, home buyers needed little more than a pulse to get a loan to buy a home.
Conversely, the much lower home sale figures between 2008 and 2012 are also an anomaly as 1) there was a ton of fallout from the real estate "bubble" and 2) buyers needed much higher credentials in order buy a home after the fallout.
Historical Sales of Homes Since 2005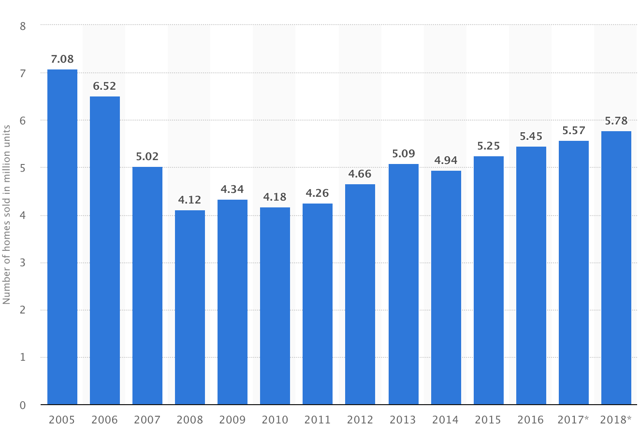 Historical Sales of Homes Since 2005
Now, if you go back 20 years to 1998 and look forward to the anticipated number of home sales for 2018, you'll see that in 15 of those years, 5 million to 6 million homes sell annually.
The number of homes sold over those was years has been pretty consistent as you can see.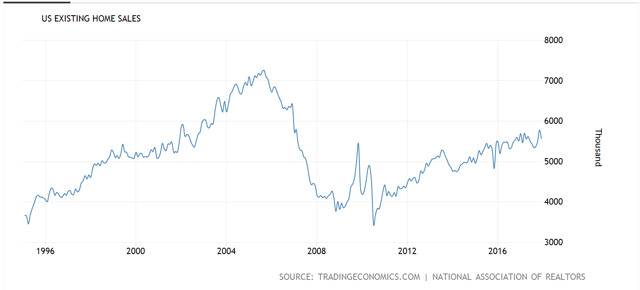 Not surprisingly, as the number of home sales rise and fall, so does the number of active agents.
At the market's pinnacle in 2006 and 2007, there were over 1.3 million Realtors® in the United States.
As the market cooled off, Realtors® left the industry at a fairly consistent pace, bottoming out at a total of 999,824 in 2012. 2012 was one of the toughest years in the industry since 1995.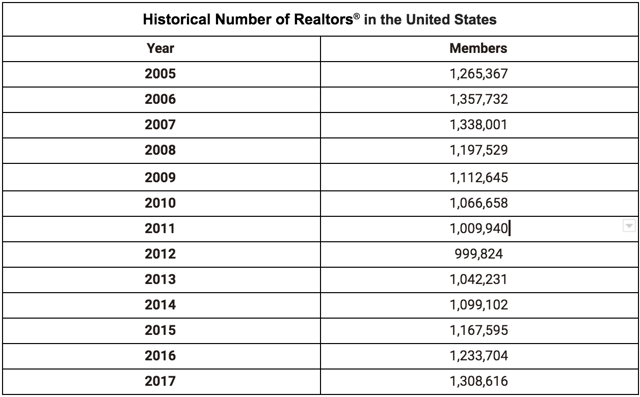 What does all this mean?
No matter what's happening in the current market environment, there's always enough business to go around. And to that point, you must spend time on the right activities to create demand to generate income for your real estate enterprise.
Here are some things you can do good market or bad:
There are a number of means of doing this and all of them work well when implemented properly:
Circle prospecting: If you're not calling a good set of neighborhood data in the better-selling neighborhoods in your market, you're missing the boat. As we've shared before, only 3% of the universe of real estate prospects are ready to do something now.
That means a whole bunch of people are going to need calls, texts, handwritten notes, and email updates today, tomorrow and well into the future until they are ready to sell. The best thing about that is this: you should be the one and only choice to help them because you'll likely be the only one who's been building a relationship with them up until the time they are ready to sell.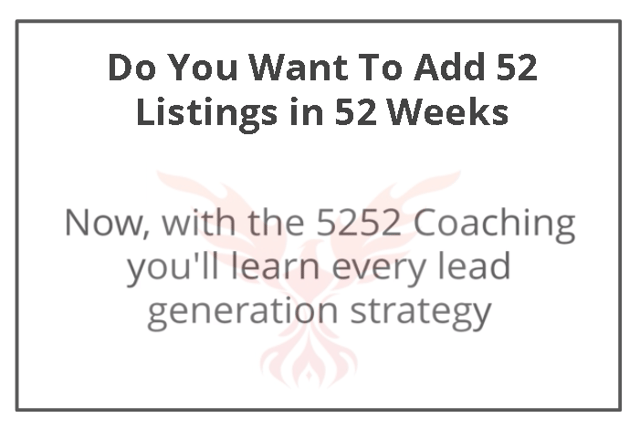 Whether you're using a data provider, a targeted lead service based on statistical data that reveals an inclination for sellers to sell or you're just calling around your just-listed or just-sold homes, you must employ this strategy to create regular demand.
Home value leads: First and foremost,

home value leads are not dead

.

Not even close. Here's why: the majority of sellers seeking the value of their home are anywhere from 6 to 8 months away from wanting to sell their home.
Also, you have to remember that almost 6.4 million homes will sell this year. That means a there is a huge number of sellers who will be looking to peg the price of their home, seeking to put it on the market and get it sold.
It's important that you do a few things well when investing in home value leads as part of your lead generation and conversion strategy:
Get leads from a reliable source that provides strong lead augmentation (read: data research to get quality information on leads). You need to make contact with leads in order to convert them.
Be patient and call consistently. Many of your first calls with home value leads will start with: "I'm not interested" or "I didn't submit a request for the value of my home". Because these people are so far out from selling in general, it's going to take at least 6 contacts to be there when they're ready to sell.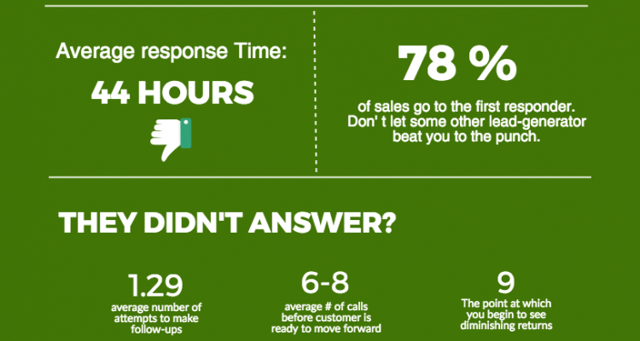 Speed of response is key

. Make sure that you get in touch as fast as possible with prospects who submit a request for the value of their home. You can improve your chance of doing business with someone 591% if you call them within 60 seconds of getting their request.
So, if you're posting links and you're doing it on Facebook, this is best way to get it to the masses and drive traffic to your website.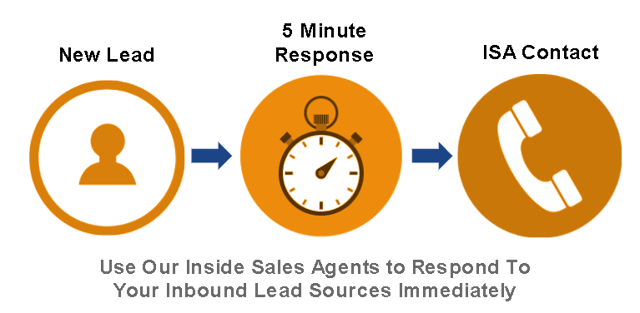 Right now, roughly 80% of realtors are using Facebook for their business, followed by 71% LinkedIn, 30% Youtube, 28% Twitter and 14% Instagram. Real estate prospects are everywhere on social media. You're missing the boat on generating a great presence for yourself and driving leads for your business if you're not using the various social media platforms for both your personal and professional use.
Past client and sphere:

"

The Agent-to-Agent Referral Economy: A study of the power of referrals in real estate

," was conducted and executed in 2017 by 1000watt, a brand and marketing agency out of Portland, OR. 1000watt explored every part of the referral process for real estate agents and discovered that a typical referral closed at rate of around 50 percent for the majority of participants.
Among the 1,435 agents who responded, nearly half of them believed they close 10-25 transactions per year. Roughly another 41 percent close 26-75 per year. In addition to that, more than 40 percent of those who participated in the study said that they got one to five referrals per year.
About 20 percent of them said that they received six to 10.
Overall, respondents said that most of their inbound referrals resulted in a closed transaction.
If you're looking to create demand from a reliable source for your business, past clients, sphere and other real estate agents are all groups of people you should consistently stay in contact with in every market environment.
The key to thriving in up and down markets is to first realize that there is always an opportunity to get business...whether you're generating it organically or taking market share from another agent.
Once you have your head around this part of the process, you then need to take action and work consistently to get in touch with, and stay in touch with, a variety of lead sources that likely nobody else will be prospecting consistently.
The business is there for the taking if you're committed to creating the necessary demand to make it a reality.