How To Set Up Your Inside Sales Agent's ( ISA ) Day For Maximum Success
Hiring a great Inside Sales Agent ( ISA ) is absolutely the foundation for success in building out a successful inside sales department.
That said, there are a number of tactics and strategies that need to be employed that are vital to ensure the best possible outcome for you and your ISA.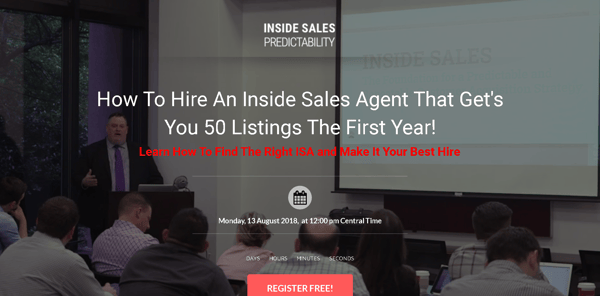 One of the most important strategies is the daily schedule your ISA needs to follow in order to optimize their efforts.
By setting up your ISAs' daily rhythm, you can help them maximize success in these categories:
Dials

Contacts

Nurtures

Appointments

Email open rates

Text views

The number of sales they help you procure
The good news is that setting up your ISA's day isn't brain surgery.
That said, you need to do it and do it right in order to make sure you get the outcomes you're seeking from an ISA.
Do the right things at the right time
As you know, there are better times of the day to make prospecting calls so that you have the best chance of getting them to pick up the phone.
Same thing goes for emails and open rates.
To capitalize on this, your ISA's schedule needs to employ the appropriate contact strategy at the correct time of the day.
Best time of day to call to make contacts:
Best time of day to send emails:
This information is the result of years of tests and studies by www.insidesales.com and www.coschedule.com respectively.
Armed with this information, we created our ISA's schedules to help them maximize their calling and email efforts to help them make the largest number of meaningful contacts on a day-over-day basis.
It's all about priorities management

Here's how we recommend you lay out your ISA's schedule so that you get the best return on your investment of time, energy and money:
Arrive 7:45 a.m.: Make sure your ISA has time to come in, get situated at their desk, review any emails from the prior day and make sure the data set(s) they are going to call during their first sprint are uploaded properly to their CRM and ready to be called.
8:00 a.m. to 10:00 a.m. - First Sprint: This is the second best time of the day to make contact with leads. And to that end, we're looking to get in touch with the newest, hottest leads that have come in the door morning.
Your ISA should be calling:
All new expireds, FSBOs, and Withdrawns

All new home evaluation leads

All leads who called in the night before

All new buyer leads that came in (if your ISA is calling buyer leads)
The goal here is to get some serious dials in, have a legitimate shot at some now business and pick up any nurtures opportunities from the sellers who might be holding off a while.
10:00 a.m. to 10:30 - Break time and Emails: Being on the phone every day - for even the most skilled and enthusiastic ISAs - can be a grind, so it's important to give your ISAs regular breaks so that they can keep their energy high throughout the day.
After a short break, your ISA can respond to emails that have come in, send emails to leads that they are nurturing, working on appointments with and anyone in your organization with whom they are currently in contact.
Remember, 10:00 a.m. is one of the best times of the day to send emails to get them open an read.
10:30 a.m. to 12:00 p.m. - Second Sprint: During this call session, your ISA can continue following up with any inbound leads with whom they didn't make contact in the first sprint.
After that, they should be calling any variety of call campaigns that you would like them to approach.
Some suggestions for this calling effort would be:
First call of the day to nurtures scheduled for that day (Don't leave messages)

Expireds that are 30, 60, 90 days old or older

FSBOs that are at least 30 days old

Nurtures that they haven't been able to reach

Buyer leads that are 30, 60, 90 days old or older
The key here is to uncover opportunities that are likely waiting to be scooped up now that the dust might have settled in the lives of the sellers that your ISA hasn't been able to convert to this point.
Plus, it's highly likely that the rest of the agents in the marketplace have moved on from trying to convert these leads, making them especially good opportunities at this point and beyond.
Consistent follow up with these types of leads is what's going to help fill your seller pipeline on a day-over-day basis.
12:00 p.m. to 1:00 p.m. - Lunch: While this speaks for itself, it warrants mentioning here that your ISA should do their best to actually take time off and actually eat their lunch.
In addition to being able to recharge their energy by getting off the phone, they can also get some nutrients in their body to keep them strong for the rest of the day.
1:00 p.m. to 2:00 p.m. - Third Sprint: Circle prospecting is the name of the game at this juncture of the day. We're looking to do some demand generation here to unearth some future seller opportunities.
A nice byproduct of circle prospecting for sellers looking to sell down the road is that you'll actually uncover some now business as well.
Circle prospecting is another great way to fill your pipeline with seller leads.
It also puts you in position to become the go-to agent with the prospects you nurture as it's highly unlikely that any other agent has been in regular contact with them (or in contact with them at all).
2:00 p.m. to 2:30 p.m. - Digital Engagement: This is another great time of the day to send emails and texts prospects. It also gives your ISA a chance to build up their reserves for the final sprint of the day.
2:30 p.m. to 5:00 p.m. - Fourth and Final Sprint of the Day: During this sprint, we're going to clean up anything that wasn't finished during the day and give our nurtures another try to see if we can make contact with them.
During this time of the day, your ISA should call:
Any nurtures not reached earlier in the day (leave messages this time)

Any expireds, FSBOs and withdrawns from the past 7 days that haven't been reached

Any follow up tasks that haven't been completed for the day or prior days

Any other event-based calls that need to happen

Circle prospecting if all of these other sources have been called
Your ISA should be able to make some decent contacts at this time of the day and finish the day strong.
It's important that as they end the day, your ISA makes sure their follow up tasks for the day have been completed and that they've logged their dials, contacts, nurtures and appointments for you.
The key to having solid, ongoing prospecting sessions is tracking good data and results from days prior.
Now, this is only one way to have your ISA work their way through the day. However, based upon the data that's been collected on best times of days to call and email, I believe that setting up your ISA's day will lead to maximum success for them and you.