How speed of response can double your conversion
Leads are like sliced white bread, they're just not as good once they get stale.
That said, If you want great conversion results, you must call your seller leads the minute they hit your radar screen.

And when I say the "minute", I mean immediately, if not sooner.
If you can do this with any sort of regularity, you'll find that your contact rate will go through the roof and your conversions, even higher.
Most of your competition does not have a speed of response strategy...which is good for you.
Harvard Business Review did some research on the lead follow up habits of sales organizations.
The findings were surprising and not surprising at the same time.
The research indicated that many companies take a lot of time to follow up on online leads.
They audited 2,241 U.S. companies, tracking how long each one took to respond to test leads generated on the Internet.
These are the results:
37% of these companies responded to their leads within an hour

16% responded anywhere between one to 24 hours

24% took more than 24 hours

23% never responded period
Here's the worst part (but the best part for you): the average response time among all companies that responded within 30 days, was 42 hours.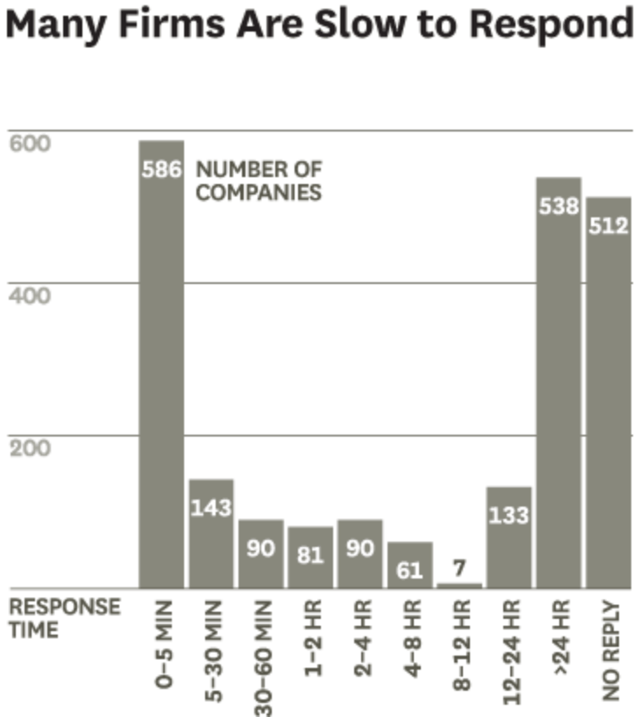 42 hours. Almost two days.
If you were looking to buy a product from any company, would you wait two days to hear back from them?
Likely not.
This bodes well for you and anyone else who chooses to adopt a speed of response strategy in their lead-follow up efforts.
The real power of speed of response
Insidesales.com gathered three years of data from the calling efforts of six different companies.
The data was then analyzed with the help of an MIT professor to determine what the best practices are for achieving maximum contact and conversion rates over the phone.
The ultimate result of the study proved that having a speed of response strategy in place impacted contact and conversion results tremendously.
One of the most shocking pieces of data to come from the study was that responding to web-generated leads within 5 minutes led to a 900% increase in contact rates.
How profoundly would your conversion improve if you increased your contact rate by 900%?
How about if you even increased it by half that?
It would change the trajectory of your business forever.
Here are two more results from the study that should make it a no brainer for you to implement a permanent speed of response approach into your ongoing calling efforts:
The odds of calling to contact a lead decrease by over 10 times in the first hour. This graphic shows us how waiting even an hour can hinder your efforts to reach someone significantly.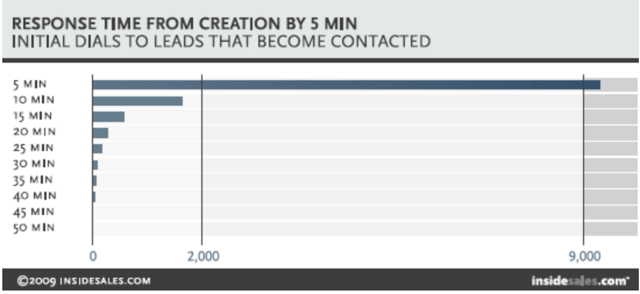 If you can't make contact with your leads, your business can and will come to a screeching halt. Knowing this, it's crucial that you or your Inside Sales Agent ( ISA ) make a Herculean effort to contact every lead that comes in the door immediately.
The odds of qualifying a lead in 5 minutes versus 30 minutes drop 21 times. And from 5 minutes to 10 minutes the dial to qualify odds decrease 4 times. It stands to reason, then, that if your ability to contact the lead diminishes significantly after an hour, your ability to qualify the lead will also suffer considerably during that same period.
In the end, you have to ask yourself how significant a 100% increase in contact ratio would impact the results you get with your leads?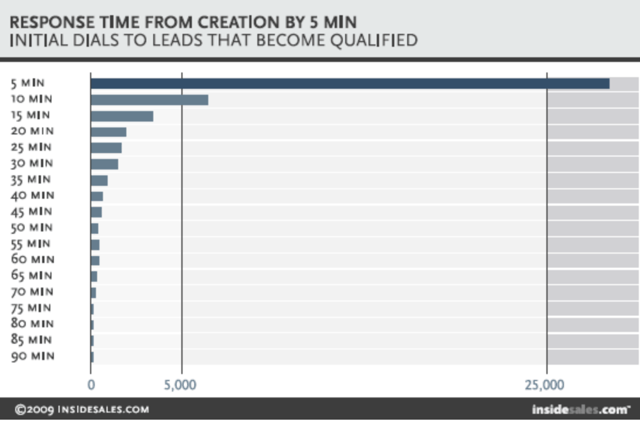 As well, what would be the effect of a 21x increase in qualification have on the bottom line of your company?
I think it would be a game changer for sure.
We've adopted a speed-to-lead approach with our own inbound leads. Currently, our proven and trained ISAs are making contact attempts to paid inbound leads within five minutes of receiving the lead.
The initial set of numbers we've gathered has been outstanding:
55 % Still Attempting to Contact

20 % Leads with Bad Info

15% Converted to Opportunity for Agent

10% Lost/Not Interested
The data is very encouraging for sure.
One last thing.
If you're looking to raise the bar, you can shoot for getting back to your online generated leads within one minute.
With a one-minute response time, you can improve your lead conversion rate by 391%.
You may not have the staff or technology to do it right now, but it's worth shooting for in light of the incredible results that solid response speeds bring about.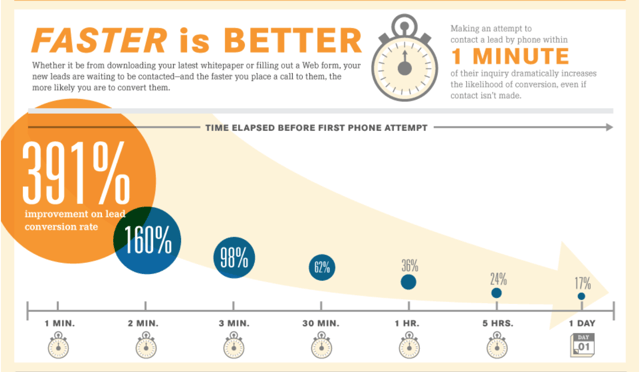 Infographic by Velocify
With all of the strategies you have available to you to improve sales efforts, speed of response is probably one of the easiest and least expensive to implement that can have such an immediate and geometric impact.
The numbers speak for themselves.
Take the time to analyze your current contact and conversion results just prior to putting your speed of response plan in place.
That way, you'll be able to see how greatly your speed of response strategy has impacted your contact and conversion results.
Don't have the time to respond as quickly as you would like ? Is lack of persistent and consistent contact attempts keeping you from converting more of the leads your paying for? Or, maybe you just don't like prospecting over the phone, no problem. You can use our Inside Sales Agent ( ISA ) team to respond to your leads withing 5 minutes. Just go here or click the image below and provide us a little information.