Why Your Real Estate Leads Don't Open Your Emails
Email marketing is like sending in a resume for a job: it's not going to actually get you the job, but done correctly, it plays an important role in getting you hired.
Unfortunately, you can't just send any old email hoping that it will make an impact on your prospect, keep you top of mind and maybe even get them to take action.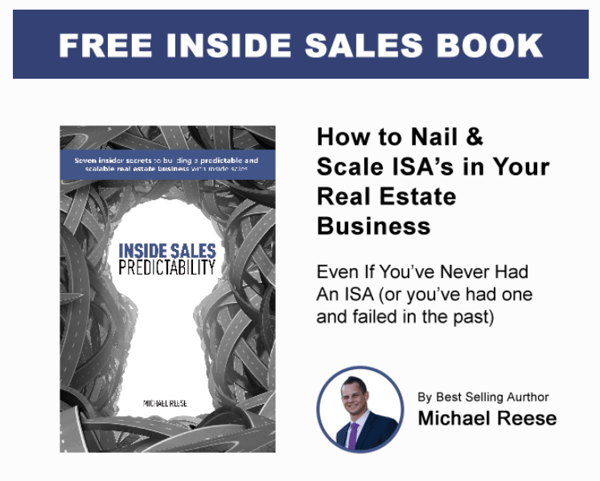 There a things you must do, actions you must take and strategies you must employ to get people to both open your emails and consume the content you provide to them.
Email marketing giant, MailChimp, conducted some research on the millions of emails they've sent for a number of industries and shared that data online.
As you can see below, I've shared the industries with the lowest open rate, the highest open rate as well as the open rate for the real estate industry.

On one hand, open rates in the real estate industry are 26.9% higher than the Daily Deal/E-coupon industry.
On the other hand, they are 23.4% lower than the open rates in the Arts and Artists industry.
In both cases, however, the click through rate - the rate at which email recipients click on a call-to-action or link in the email - is more than 20% higher than that for real estate.
What this means is that there is significant room for improvement across the board.
Here's a closer look at why your real estate leads don't open (or respond to) your emails:
1. You don't have a great relationship with them.
I think you'd agree that you're more likely to open an email from a friend, family member or colleague than you would be from someone you don't know as well.
When you have a good relationship with someone, there's a certain level of trust and credibility that come into play.
If you're sending emails to your prospects and they're not getting opened, it can be because you don't have a level of rapport with them that would cause them to want to open them.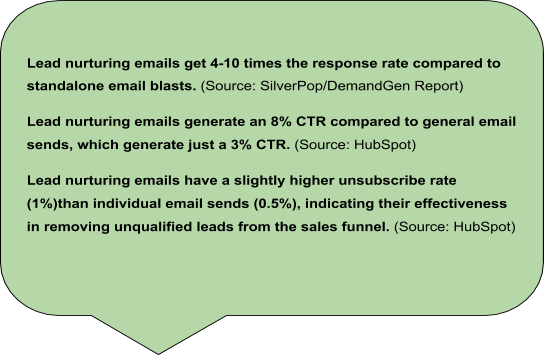 In order to improve your open rates, you must nurture your leads with a variety of touches in between emails.
Tactics like phone calls, handwritten notes, text messages and even face-to-face visits can strengthen your relationship with your leads so that when you send an email, they'll want to open it.
It's important to note that all of your contact efforts must be authentic and sincere so that you build strong bonds with the people with whom you're looking to do business.
Taking the time to nurture your leads properly will almost certainly get your emails opened at a much higher rate and get you better results.
2. Your email subject lines aren't effective.
Emails are also like packages. You can see who their from, but you don't always know what's inside.
If the package is wrapped nicely, has a pretty bow on it and has a tag, you're going to want to open it.
However, if you don't know who the package is from and it's a plain brown wrapper with a bunch of postage on it, you might be a lot less likely to want to open it.
And this is where your subject line comes in.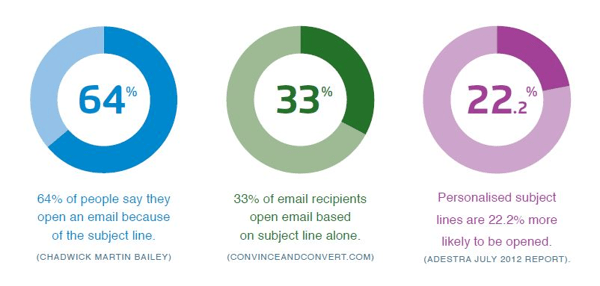 The subject line, as you know, is comprised of the words your email provider shows you after the name of the person who sent the email.
There's a tremendous amount of data, science, art and skill - as well as a whole lot of testing - that goes into writing good subject lines.
The great news is that if you write good subject lines, your emails are going to get opened and likely read.
The bad news is that if they suck, well, you know what happens then.
Here are a few tips on how to generate some great email subject lines:
Personalize your subject lines with each recipient's name or location when appropriate. Personalization is shown to increase open rates, even when you don't know the person well.
Count characters and words in your subject lines. Historically,

40 to 50 characters or 5 words

or less work best (and shorter is better when possible). Ideally, you'll want to keep them reasonably short taking into consideration how many emails are now read on mobile devices.
Make sure they can see value in what they're about to read. WIIFM (What's In It for Me) is everybody's favorite radio station and the one they tune to the most. Your subject line must communicate that there's something valuable for them just around the corner.
When it makes sense, ask thought provoking questions to which opening your email is the best possible solution to find the answer.
If you're going to send emails to your leads in an effort to stay in contact with them as well as to build your brand, do some research on how to write killer subject lines.
It will be well worth the time invested on your part.
3. Your list isn't segmented properly.
Not all leads want the same thing from you.
"List your house" emails to buyer leads and "Free list of area properties" emails to seller leads aren't going to get those emails opened.
If you want people to open your emails, you need to make sure they're getting an email that makes sense to them based upon what they're trying to accomplish.
Failing to segment your list properly and send relevant emails to specific segments pretty much guarantees that your email campaigns will fall short and that your emails will sit, unread, in the inboxes of he wrong people.
In addition to investing time in what to say and how to say it, you should also allocate time to reviewing your database and knowing not just who is in there, but also what problem they want you to solve for them.
By doing this, you put your emails in position to get read and yourself in position to succeed.
Companies spend thousands of dollars each year testing what works and doesn't work in getting their emails opened and read.
The good news is that there is lots of information available on what to do - and more importantly what not to do - in order to implement a good email marketing campaign.
I've provided you with a good start here. Take some time and do some additional research and before long, your emails will start getting opened and read at a good clip.
And that should lead to some great sales business for you, for sure.