How to kill it in the first quarter of 2018
Selling for 2018 has already begun.
Many agents aren't going to start doing anything until the second week of January 2018.
In terms of prospecting, that's as many as 12 set appointments, 7 met appointments, 5 listings taken and 22 nurtures away from today. Not to mention all the contacts you can make that could impact what's going to happen between now and the end of March next year.

If you're going to kill it during the first quarter of 2018, there are things you need to be planning on - and doing - NOW to make sure that you'll be successful.
And, while it's likely not anything you haven't heard before, it's a good refresher to make sure you're dialed in and ready to be selling in the first quarter of next year versus just coming out of "hibernation".
What You Need to Do to Kill it in 2018
Knowing what to do and doing it are two different things. In fact the difference between the two is like the difference between throwing a bullet at a target and shooting one.
One of them is way more effective in accomplishing the goal. That said, you must take action if you want to crush it in the early part of next year.
And to do this, you must first set your goals.
(Before you keep reading, remember, I said this isn't anything you haven't heard before, yet still a good primer for the future).
Many of the people who do set goals wait until the last minute to do so, which is unfortunate. What's worse is that most people don't set them at all.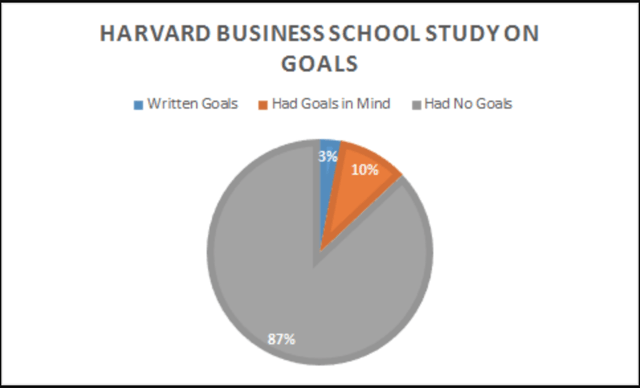 You may have seen this Harvard MBA Study from 1979.
The average Harvard MBA graduate starts their career with a $115K salary and as much as a $20K signing bonus. Despite that, some Harvard MBA graduates enjoy a significant amount more success than others over time.
In fact, between 1979 and 1989 when they were interviewed again, 3% of Harvard MBAs had made ten times what the other 97% did combined.
The reason: Goals.
Your goals must be on paper if they are to become a reality.
The majority of them had no specific goals or had goals, but not written down on paper.
Only 3% had things written down with plans to accomplish them.
Good goal planning takes weeks.
Further, you need to not only know where you're going, you need to know where you're coming from.
And more importantly, you need to write your goals down, put them away for a few days and then come back to them to make sure that they're exactly what you want to accomplish. If you haven't written your goals down yet, take the time today to get them on paper.
It's the first thing you need to do to ensure you kill it in 2018.
The next thing you must do is to make sure you're prospecting starting now. If you wait until the new year starts, you'll be behind the proverbial eight ball in building a pipeline of seller nurtures for next year. Worse, you'll be behind your competition in getting sellers to decide to work with you. The sooner you start, the further ahead you'll be in securing and selling listings in the first quarter of 2018.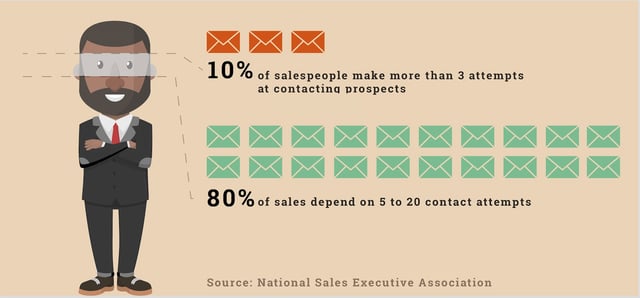 When our Inside Sales Agents ( ISA ) call, it takes as many as 12 contact attempts to get a 23% spoke to ratio. As well, it takes 43 contacts to get a listing and around 66 to get a listing sold. That's not a whole lot of contacts per day if you break in into daily contacts.
Nonetheless, there is a requisite number of contacts you need to make in order for you to get the results you seek…
...and you need to start early and call often so you can already have relationships in place before the market starts to heat up in the middle of the first quarter next year. I's the best way to get a leg up on your competition.
Lastly, you must put yourself in position to hire an ISA by the end of the year. It sounds like a tall order, but it's really not.
In order to hire an ISA, you need to be able to put away about $10k for the purposes of paying your ISA's salary and be on a clip of selling about 4 homes per month.
If you've done steps one and two correctly, you should be well on your way to building a pipeline of listing leads that should pop not only during the first quarter, but also in the second quarter.
And, if you're not able to hire your own ISA, you can hire an ISA service that can make calls for you.
Either way, your goal should be to get crush the first quarter so that you can build some sort of leverage in calling seller leads through hiring an ISA.
There's almost no bad time to hire an ISA.
When you do that, you'll be able to grow your business geometrically and stack some cash so you can build a team to create a business that will take care of you and your family forever.
Make sure you create some amazing goals with a killer plan. Execute your plan like your business depends on it (because it does). Then hit the phones harder than you've ever hit them before.
Once you do that, you'll have enough money coming in the door to turn over your prospecting efforts to a skilled phone salesperson who can help you take your business to the next level.
All of that, my friend, starts right now. Interested in learning more about crushing your goals. Check this post out